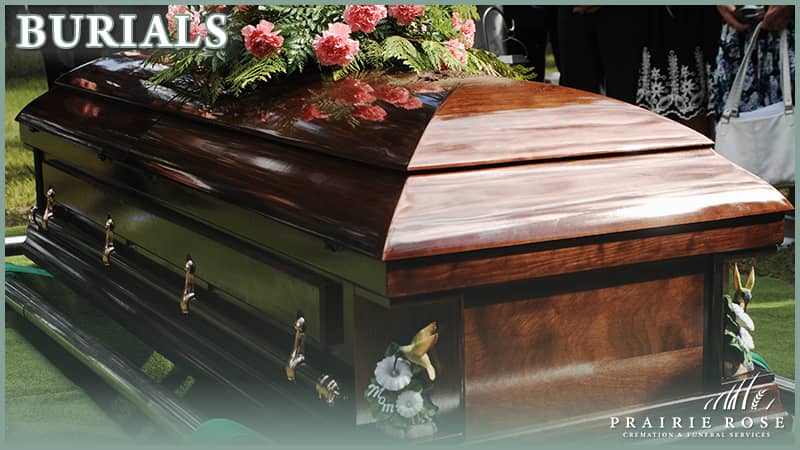 Prairie Rose Burial services are offered with three options:
Graveside Services (no embalming if there is no viewing)
Closed Casket (service is held but does not involve embalming or viewing)
Open Casket (viewing and service where embalming would be performed for the purpose of a viewing / prayers)
During our in-home consultation we will explain each option to you in detail and assist you in selecting a choice best suited for your family's needs and wishes. This includes (but is not limited to):
Casket Selection
Cemetery
Flowers
Memorial Book, Service Folders and Obituaries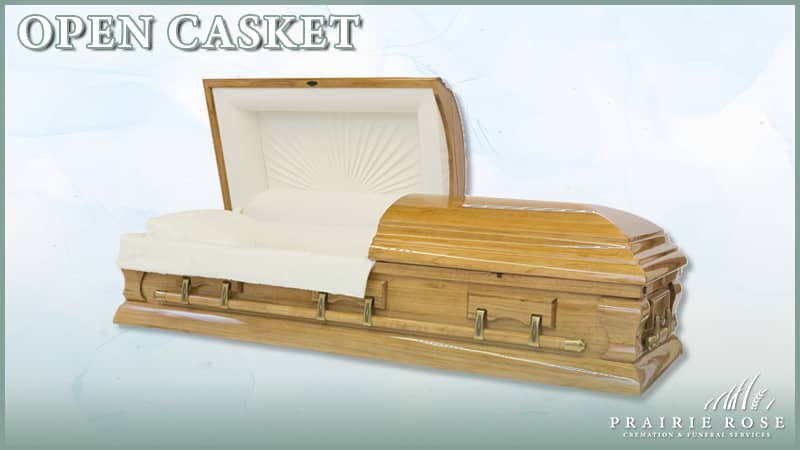 For many family, cultural, and religious traditions, an open casket or viewing is an important part of honouring, witnessing, and praying for your loved one during a funeral service. If this practice is valued in your family or community, Prairie Rose can guide you to understand the most dignified customs and best practices to include viewing in your funeral service. Together we will make the best decision about giving access to those for whom it is important and when and how to close the casket when the time is right. We can work closely with your chosen venue to ensure that your loved one is honoured throughout the ceremony.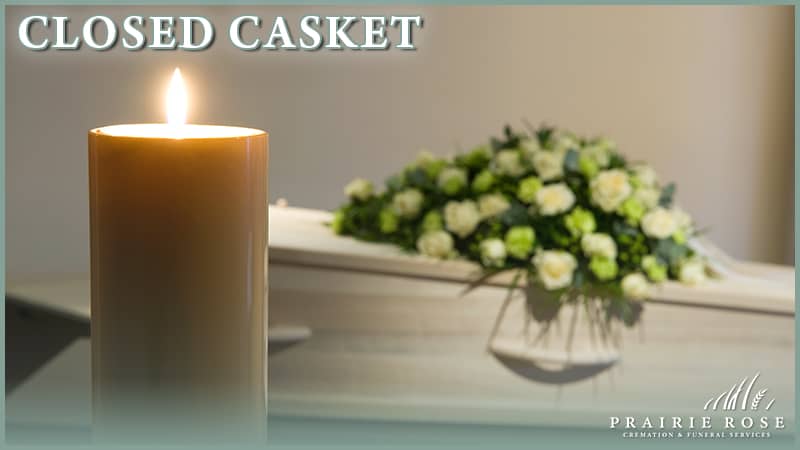 Sometimes families choose a closed casket service to celebrate the life of their loved one. This may be due to cultural or religious beliefs that value a closed casket out of respect for the deceased. Sometimes families will opt for a closed casket to protect the privacy and dignity of their loved ones, such as when the deceased endured a long illness or if they may have been in an accident. A closed casket ceremony can still offer family and friends the opportunity to honour and pray over their loved one. Prairie Rose can guide you through detailed selections such as a funeral spray, photographs, memory boards, and more to celebrate the life and presence of your loved one.
In-Home Consultations
Your comfort is our priority. When you lose a loved one, simple tasks like leaving the house can take a lot of effort. You need a safe and comfortable space to ease the decision-making process.
This is why we come to you for an in-house consultation. At your consultation, we will explain your burial and cremation options including casket and urn choices. Almost all of the necessary tasks can be completed from your home so you and your friends and family can gather together with very little interruption.
Compassionate And Meaningful Funeral Services
Prairie Rose Cremation & Funeral Services is committed to providing families with compassionate and caring service. We are committed to ensuring that all Albertans have access to affordable burials and cremations. We are devoted to guiding you to make the best and most informed choice to honour and remember the one you hold dear, from pre-planning services to honour of memorial and celebration of life options.
Our Family For Your Family
Prairie Rose Cremation & Funeral Services is committed to providing meaningful options so that your family can make the best and most informed choices to honour and remember your loved one who has passed away. From the moment you first need us, we will be by your side guiding and supporting you throughout this difficult time. To ensure that your loved one is cared for with compassion and respect or to explore your option for pre-planning funeral services, book a no-obligation, in-home consultation today. Call us or connect with us through our online contact form.
We're Here For You
Contact Prairie Rose Cremation and Funeral Services by calling us at 1-403-216-5111 or by filling out the contact form below to set up an in-home consultation.