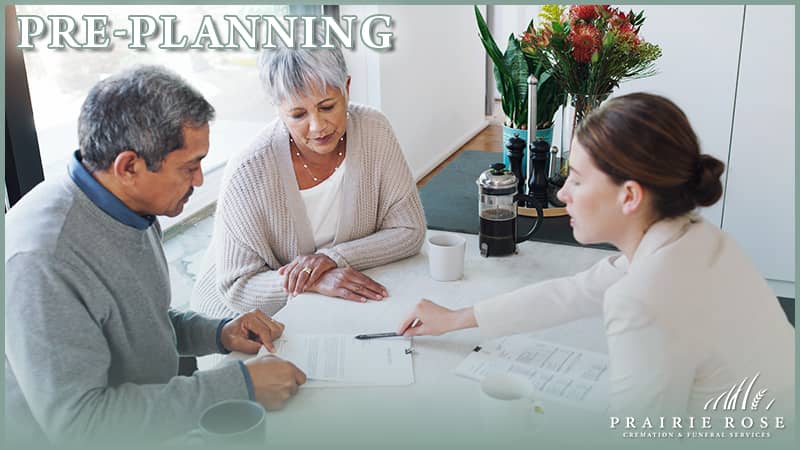 Pre-planning your funeral and memorial ensures that you have a voice in the final arrangements. It also eases the burden for your family of making difficult decisions during a time of mourning and grief. Our compassionate and experienced team can guide you through each step of the pre-planning process to ensure that your wishes are understood. There are two options when considering pre-planning:
Pre-Need Funeral Arrangements- This option allows you to clarify your wishes for cremation or burial, the type of service, specific religious, cultural, or family traditions you wish to include, and more. This arrangement document can be held in safekeeping with the team at Prairie Rose Cremations & Funeral Services, your family or a trusted friend, or your attorney.
Pre-Paid Funeral Contract- This option allows you to pre-select cremation or burial, type of memorial service, casket or cremation urn, burial location, and more. Prairie Rose has partnered with TruStage of Canada to guarantee pricing at the time of the contract and coverage when you need. If you move to another province your initial funds plus interest can be transferred to any funeral home in North America. There is no guarantee when transferring your policy to another funeral provider that the costs will remain the same.
Give yourself and your family the peace of mind that comes with pre-planning.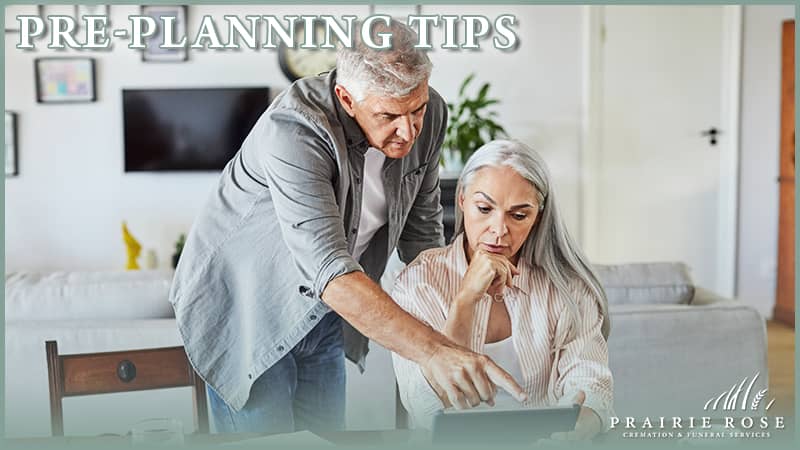 When you consult with Prairie Rose Cremation & Funeral Services to pre-plan your funeral arrangements, we will guide you through every step of the process. As you consider pre-planning, here are some helpful tips:
Would you prefer burial or cremation? Do you want to pre-purchase a plot? Do you have particular wishes for your cremated remains? Would you like to purchase space in a columbarium or a mausoleum? Is there specific information you wish to include on a marker?
Consider the type of service you would like. Do you want to include important religious or cultural customs? Are there specific readings or songs you want to include? Do you want to select pallbearers or people to deliver the eulogy or tribute?
Is there a certain church or another venue you prefer? Do you have an officiant in mind?
Would you like to have a viewing? Do you want to include a graveside service?
Do you have a favourite charitable organization where family and friends can make donations in your memory?
When You Need Us, Where You Need Us
Your comfort is our priority. When you lose a loved one, simple tasks like leaving the house can take a lot of effort. You need a safe and comfortable space to ease the decision-making process.
This is why we come to you for a personalized consultation, in a space that works for you. At your consultation, we will explain your burial and cremation options including casket and urn choices. Almost all of the necessary tasks can be completed from your home so you and your friends and family can gather together with very little interruption.
Compassionate And Meaningful Funeral Services
Prairie Rose Cremation & Funeral Services is committed to providing families with compassionate and caring service. We are committed to ensuring that all Albertans have access to affordable burials and cremations. We are devoted to guiding you to make the best and most informed choice to honour and remember the one you hold dear, from pre-planning services to honour of memorial and celebration of life options.
You do not. Pre-planning can simply be a way to specify your final wishes.
A pre-planning consultation with Prairie Rose is free of charge and has no obligation. We will guide you through the process of pre-planning to ensure you have the opportunity to make every decision and selection that is important to you. We will hold your pre-planning documentation in safekeeping until needed.
If you wish to choose a specific urn for cremated remains, you would need to buy it and store it until it is needed. We are unable to hold purchased urns on site. We cannot guarantee any merchandise selected during the pre-preplanning stage as products and supply change over the years. If there is a specific urn you like you are welcome to purchase from us at the time of pre-planning.
Our Family For Your Family
Prairie Rose Cremation & Funeral Services is committed to providing meaningful options so that your family can make the best and most informed choices to honour and remember your loved one who has passed away. From the moment you first need us, we will be by your side guiding and supporting you throughout this difficult time. To ensure that your loved one is cared for with compassion and respect or to explore your option for pre-planning funeral services, book a no-obligation, consultation today. Call us at 1-403-216-511 or connect with us through our online contact form.
We're Here For You
Contact Prairie Rose Cremation and Funeral Services by calling us at 1-403-216-5111 or by filling out the contact form below to set up a consultation.