Memorial Service / Celebration of Life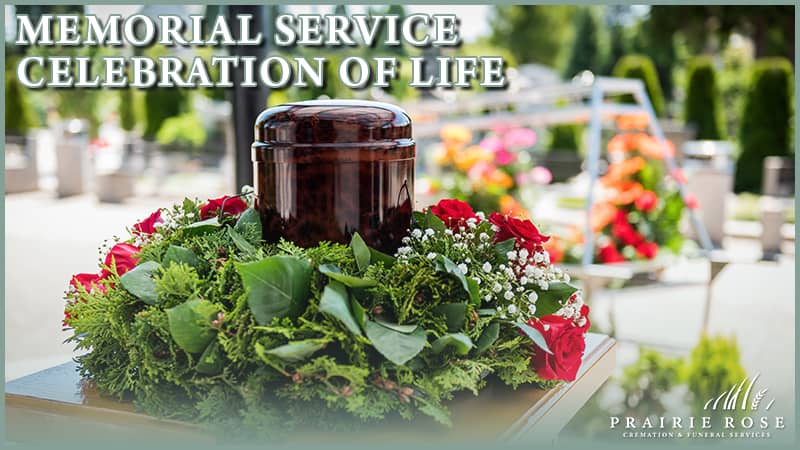 Prairie Rose offers Memorial Service / Celebration of Life when choosing cremation prior to service. Our compassionate team will work closely with you to choose an appropriate venue, celebrant, service folders, and floral arrangements and ensure that every detail is attended to. During our consultation, we will inform you of your options and help you make the most informed decisions for a meaningful memorial cremation service.
Professional Service Fee: $2780
Additional Fees not included in the Professional Fee:
$655 Cremation Fee
$197 Minimum Cremation Container (Required)
$10 Alberta Funeral Services Regulatory Board fee
$40 - $450 Urns Range
When You Need Us, Where You Need Us
Your comfort is our priority. When you lose a loved one, simple tasks like leaving the house can take a lot of effort. You need a safe and comfortable space to ease the decision-making process.
This is why we come to you for a personalized consultation, in a space that works for you. At your consultation, we will explain your burial and cremation options including casket and urn choices. Almost all of the necessary tasks can be completed from your home so you and your friends and family can gather together with very little interruption.
Compassionate And Meaningful Funeral Services
Prairie Rose Cremation & Funeral Services is committed to providing families with compassionate and caring service. We are committed to ensuring that all Albertans have access to affordable burials and cremations. We are devoted to guiding you to make the best and most informed choice to honour and remember the one you hold dear, from pre-planning services to honour of memorial and celebration of life options.
Cremation Memorial Service FAQs
There are many options for venues. We can hold the memorial service at your home, a community centre, or even at a location that was meaningful to your loved one such as a golf course or a fishing lodge. We will work closely with you to find the most appropriate location to honour your loved one.
Not at all. Because you have chosen cremation, the memorial can be held anytime. Some families choose to wait for a particular holiday or until it is convenient for relatives who live far away to gather.
The simple answer is yes, you can scatter cremated remains. An option might be to scatter some cremated remains and keep some in a registered cemetery so there will be a permanent record of death. Permission must be obtained from the landowner prior to scattering of cremated remains on any property, Including Crown land and public spaces (parks, golf courses, etc.). Scattering cremated remains in the flowing water of a national park is strictly prohibited.
Our Family For Your Family
Prairie Rose Cremation & Funeral Services is committed to providing meaningful options so that your family can make the best and most informed choices to honour and remember your loved one who has passed away. From the moment you first need us, we will be by your side guiding and supporting you throughout this difficult time. To ensure that your loved one is cared for with compassion and respect or to explore your option for pre-planning funeral services, book a no-obligation, consultation today. Call us at 1-403-216-511 or connect with us through our online contact form.
We're Here For You
Contact Prairie Rose Cremation and Funeral Services by calling us at 1-403-216-5111 or by filling out the contact form below to set up a consultation.