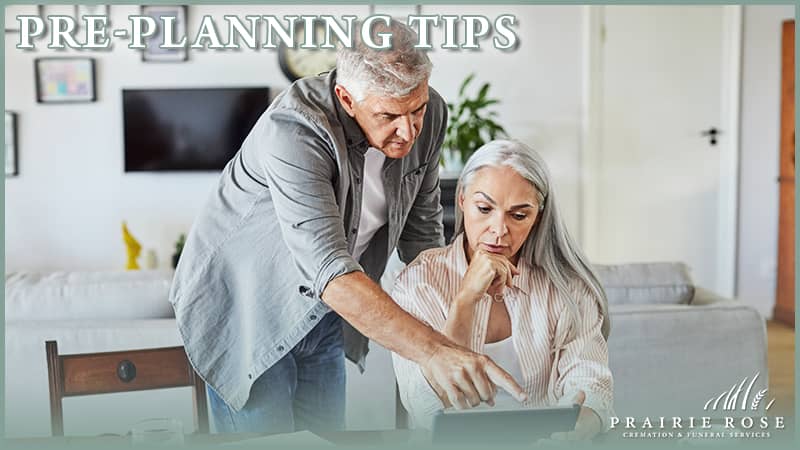 When you consult with Prairie Rose Cremation & Funeral Services to pre-plan your funeral arrangements, we will guide you through every step of the process. As you consider pre-planning, here are some helpful tips:
Would you prefer burial or cremation? Do you want to pre-purchase a plot? Do you have particular wishes for your cremated remains? Would you like to purchase space in a columbarium or a mausoleum? Is there specific information you wish to include on a marker?
Consider the type of service you would like. Do you want to include important religious or cultural customs? Are there specific readings or songs you want to include? Do you want to select pallbearers or people to deliver the eulogy or tribute?
Is there a certain church or another venue you prefer? Do you have an officiant in mind?
Would you like to have a viewing? Do you want to include a graveside service?
Do you have a favourite charitable organization where family and friends can make donations in your memory?
When You Need Us, Where You Need Us
Your comfort is our priority. When you lose a loved one, simple tasks like leaving the house can take a lot of effort. You need a safe and comfortable space to ease the decision-making process.
This is why we come to you for a personalized consultation, in a space that works for you. At your consultation, we will explain your burial and cremation options including casket and urn choices. Almost all of the necessary tasks can be completed from your home so you and your friends and family can gather together with very little interruption.
Compassionate And Meaningful Funeral Services
Prairie Rose Cremation & Funeral Services is committed to providing families with compassionate and caring service. We are committed to ensuring that all Albertans have access to affordable burials and cremations. We are devoted to guiding you to make the best and most informed choice to honour and remember the one you hold dear, from pre-planning services to honour of memorial and celebration of life options.
Our Family For Your Family
Prairie Rose Cremation & Funeral Services is committed to providing meaningful options so that your family can make the best and most informed choices to honour and remember your loved one who has passed away. From the moment you first need us, we will be by your side guiding and supporting you throughout this difficult time. To ensure that your loved one is cared for with compassion and respect or to explore your option for pre-planning funeral services, book a no-obligation, consultation today. Call us at 1-403-216-511 or connect with us through our online contact form.
We're Here For You!
Contact Prairie Rose Cremation and Funeral Services by calling us at 1-403-216-5111 or by filling out the contact form below to set up a consultation.